Transcript
Often when employers come to us, a big concern they have is that an employee left the company maybe within the past six months or so, and he or she is now soliciting all of the company's customers. The employer wants to know if there's a way to stop it.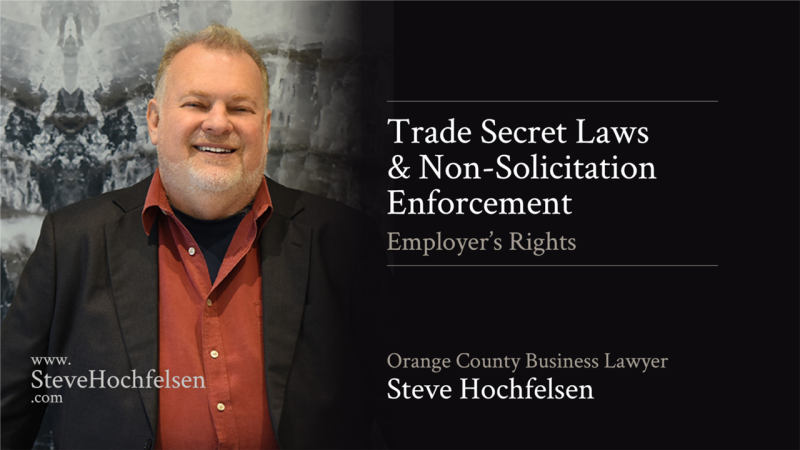 Now, there's good news and there's bad news on that front. The good news is that there often can be a way to stop it, but the bad news is that in the situation I'm describing, it's usually too late.
California law is very strong that every employee has a right to make a living, and that means that every employee has the right to leave your company and go work for a competitor. The California Supreme Court said that as early as 1944. Because of that, a clause in the contract that says an employee agrees not to compete with you when he or she leaves the company is unenforceable in California.
Now, there's some exceptions to that. If an employee is a part owner of the company, and that means a legitimate part owner, not just a participant in a stock plan, you can enforce a reasonable non-compete clause. It has to be reasonable in distance and time, and that's subject to interpretation. But, for the most part, it's generally agreed that a clause saying that a part owner won't compete with you for one year after he or she leaves in a business that's about 50 miles from yours is going to be enforceable.
But, what is a reasonable distance, and what's a reasonable time? That's flexible. It depends on your business and where you get your customers from. For example, if you're in sales, and you sell to customers throughout the entire state, then it could be argued that a prohibition against selling a competitor's product throughout the state is a reasonable geographic restriction. But, if you only sell in Los Angeles County, then a state-wide restriction would be too broad and would probably be considered unreasonable. And, again, such clauses are only enforceable against part owners, not against ordinary employees.
Another exception is the use of trade secrets. You can restrict an employee from using your trade secrets when he or she goes to work for a competitor. That is an enforceable clause. But the big issue becomes, "What is a trade secret?" Generally, a trade secret has a specific legal definition.
A trade secret is something that's kept secret by the employer and that derives value from its secrecy. There's a number of things that the courts use to determine if information is a trade secret, and that includes whether the information is known outside of the business. It includes whether it's known widely by employees and others within the business. It includes the measures taken by the employer to guard the secrecy of the information, the value of the information of the employer and its competitors, the amount of effort or money spent by the employer in developing the information, and whether it's easy or difficult for someone else to acquire or to duplicate the information.
There are a lot of things that can be trade secrets – products, software, processes, marketing materials, and a lot more. One of the more common things are customer lists. In fact, it's not at all unusual for an employee who leaves a business and goes to a competitor to, then, start soliciting all of his or her old clients that he or she met while he or she was in the business. That's really frustrating for the former employer, but the time to stop that from happening is long before the employee leaves.
Customer lists can be a trade secret. If they are, and an employee signed an agreement not to use trade secrets when he or she leaves the employer, then the former employer can stop him or her from soliciting the customers. But, in order for a customer list to be a trade secret, it has to be maintained in a confidential manner, and you want to have a document trail that establishes that.
To have a customer list be a trade secret, you want to have the employee sign an agreement that he or she will have access to trade secrets while working there and that he or she won't use them after he or she leaves. Before getting access to the list, the employee needs to sign an agreement acknowledging that the list is a trade secret and will be maintained in a confidential manner.
The list shouldn't be commonly accessible within the company. Instead, it needs to be distributed only on a need-to-know basis. If it's on your computer network, it needs to be password protected and only the employees who are authorized to use it should have the password.
You see, you want to establish that it's not publicly available, that it was kept confidential, and that it was distributed on a need-to-know-only basis. It also helps if you can establish the effort and expense spent in developing the list and how it's different from just pulling names out of an industry listing in the phone book.
These are the kind of things that need to be established with anything that's claimed to be a trade secret. Always have an employee who's going to get access to your trade secrets sign a document, a non-disclosure agreement, a document acknowledging that it's a trade secret and will always keep it a trade secret, that they're always going to keep it secret, locked up, password protected, given out only on a need-to-know basis.
Remember that once it becomes publicly available without protection, there's a strong argument that it's no longer a trade secret.
Now, if something can be established to be a trade secret, a former employer can send a letter both to the former employee and to his or her new company demanding that they cease and desist from using the former employer's trade secrets. If they don't immediately stop, you can sue both the former employee and the new company for theft of the trade secrets. And, if there are other claims and proper documentations, there might be other grounds to sue, as well, such as breach of contract, copyright violations in the case of software or marketing materials, unfair business practices, defamation, conspiracy, or more.
Now, also, in California, there's another level of confidential information that doesn't rise to the level of trade secrets but that can still be protected. Confidential information is information that's still kept secret, disclosed on a need-to-know-only basis and that's not publicly available. But, while a trade secret has to have economic benefits to the employer by virtue of its secrecy, confidential information doesn't. The terms "trade secret" and "confidential information" are often used interchangeably, but they're not interchangeable. Confidential information can still be protected if it's subject to a non-disclosure agreement and if secrecy is maintained. But, not all confidential information is defined as a trade secret.
So, for practical purposes as an employer, you should know that there's a difference, but if you take the necessary steps to maintain secrecy, you're still protected, and you really don't need to know the difference. What you always need to know is that the time to protect your confidential information is when you hire the employee and while he or she is employed with you.
While a good, creative lawyer might be able to do something at the time the employee leaves, if you didn't do what you needed to do while he or she was working with you, then by the time he or she leaves, it could already be too late.